Plant Based Travelers Exploring the USA
We have been Hiking the USA
Join Us As We Continue our
We have visited and hiked in many of the USA National/State Parks and Treasures as well as other interesting sites. Besides the challenges of traveling, we are also living a
Plant-Based Lifestyle
, so have surmounted some challenges when it comes to dining, restaurants and hotel/motel accommodations.
Nancy and I have traveled extensively all over this wonderful Planet. Mostly for business while Nancy flew for Delta Airlines and me on business travels. We have ventured to all parts from the USA to Hong Kong, throughout Europe and more. We always stayed in major cities and seldom had the opportunity to explore the local regions.
This site and our documented/planned adventures are intended to correct this oversight. Now, sort of 'semi-retired' we have the opportunity to hit the road, stay off the main highways and avoid all but the most historic/interesting cities.
Our plans are to visit as many of the USA National/State Parks and Treasures as we can as well as other interesting sites. Besides the challenges of traveling, we are also Nutritional Vegans, living a
Plant-Based Lifestyle
, so have surmounted some challenges when it comes to dining, restaurants and hotel/motel accommodations.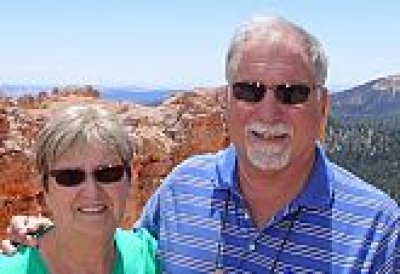 Winter Haven, Florida
I thought a short description of what it means to be Whole Food Plant-Based should be found on our site. Some folks are more focused on hiking/camping and the great outdoors; that is great! One of the unique things about US is that we do it all without eating meat, fish, dairy or eggs. No animal foods of any kind; well as much as possible with all the hidden ingredients in packaged foods. Thus we try to avoid most packaged foods unless explicitly stated that they are Plant-Based and contain NO GMO ingredients. Still, you can only do the best you can; especially on the road.
Here is a wonderfully simple definition of what it is to be Plant-Based. We eat the rainbow of foods and experience some of the most delicious dining pleasures imaginable. It is NOT just all salads (like too many envision).
The major difference is the focus of most Plant-Based Lifestyle folks is on Health & Wellness while that of Vegans tends to be more focused on animal treatment and promotion of animal welfare.
While, in the end, the results of avoiding all meat, fish, dairy and eggs (and derivatives) accomplishes the same objective: less/no consumption of animal products, it is all about the focus.
There are many 'junk food vegans' who are not all that healthy. Plant-Based, with it's focus on Health & Wellness avoids all (well almost all) junk food, overly processed 'food' and all GMO (genetically modified organisms). Vegans may consume GMO products and other, not so healthy products while still avoiding animal products.
Plant-Based Lifestyle and dietary regimes focus on delicious Plant Based Cuisine, not just avoiding meat, fish, dairy and eggs but ENJOYING Plant-Based Cuisine. The variety is almost endless and most Americans have no clue the diversity, flavors and dining excellence that is available with
Plant-Based Cuisine
.
National & State Parks And Favorite Places
We have visited at least once!
Great Falls National Park

George Washington Memorial Parkway







Grand Canyon (North & South Rim)

Umatilla Indian Reservation

Wupatki National Monument




Lewis & Clark National Park

Cannon Beach - Haystack Rock

Butchart Gardens - Victoria B.C.




Colorado National Monument

Rocky Mountain National Park

Salt Lake City - Temple Square
Just Click on the One You Want
---